Prime Minister Justin Trudeau has elevated first-time MP and rookie cabinet minister Bardish Chagger to the post of Government House Leader.
Chagger, the 36-year-old MP for Waterloo, Ont., is the first woman, and first visible minority, to hold the position.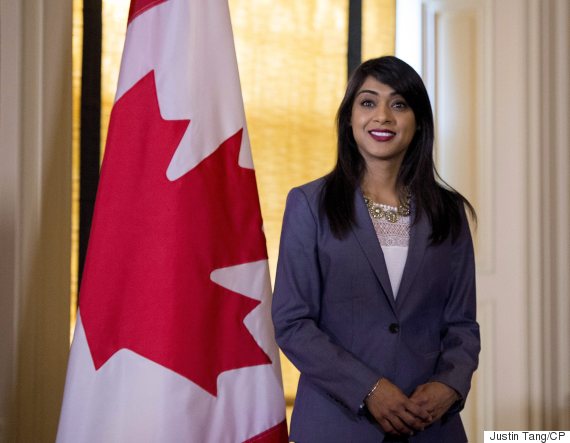 Bardish Chagger looks on after being sworn in as Leader of the Government in the House of Commons at Rideau Hall on Aug. 19, 2016. Photo: Justin Tang/CP)
She will be responsible for negotiating smooth passage of the government's agenda in the House of Commons as well as be the point person for any House reforms.
Speaking to reporters Friday afternoon, Chagger said she was honoured by the promotion and would continue to bring a positive, optimistic and collaborative tone to Parliament. But she declined to say what she would do differently, for example, pledging not to invoke closure on parliamentary debate.
"Today's is my first day on the job," she answered when pressed on specifics.
She will continue to raise the bar on an open Parliament, she said, adding she really believes parliamentarians "can all work together."
"I know what democracy should look like. Democracy should be engaging with Canadians."
— House Leader Bardish Chagger
When asked what experience she brings to the job, Chagger responded that she had been "involved in the political process basically my whole life.
"I know what democracy should look like. Democracy should be engaging with Canadians. That is the leadership of our prime minister. That's why the whole of government approach will work for Canada," she answered.
Chagger said she and Trudeau had a "great conversation" Thursday where they discussed delivering a more open government, one that reflects Canadians and one that works as a team.
"I am so proud to be part of a cabinet that reflects Canada. That's why today is another exciting day," she said.
The move heightened tensions in Parliament and culminated in Trudeau inadvertently elbowing an NDP MP in the chest. LeBlanc later withdrew the motion.
Chagger was elected to Parliament last October. She previously worked as an assistant to the riding's former Liberal MP Andrew Telegdi.
With files from Ryan Maloney
SOURCE: HUFFINGTONPOST.CA