A

n attack claimed by al-Qaeda-linked gunmen on Somalia's Higher Education Ministry in the capital, Mogadishu, has left at least 17 people dead, police said. A car bomb exploded at a checkpoint outside the ministry's compound on Tuesday before gunmen stormed the building and began exchanging gunfire with security personnel for two hours. The siege has ended and government forces have retaken control of the area, police official Mohamed Aloley said by phone.

 
Eight civilians at a cafe next door to the ministry and two soldiers died during the assault, while security forces shot dead seven of the attackers, Interior Ministry spokesman Mohamed Yusuf told journalists. Another 17 people were receiving medical treatment for injuries, Duniyo Mohamed, director at the main Medina Hospital, said in a phone interview. The militant group al-Shabaab was behind the attack, spokesman Sheikh Abdulaziz Abu Musab told Radio Andalus, a Somalia-based broadcaster that backs the fighters. The militants have often targeted places where government officials gather during their eight-year insurgency to oust the government and establish a strict version of Shariah, or Islamic law. While the group has lost territory in the past few years to a military offensive led by African Union peacekeepers and government soldiers, the region is facing a growing threat from cross-border attacks by the Islamist militants.
Al-Shabaab claimed responsibility for a raid on a university in the eastern Kenyan town of Garissa about two weeks ago, in which at least 147 people, most of them students, were killed.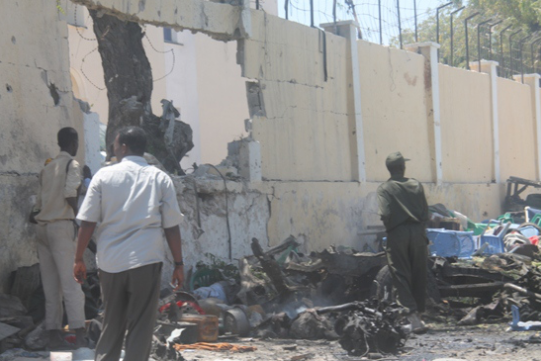 Once again, #Shabaab utilizes its suicide car bombs + siege tactic in #Mogadishu Education Ministry attack.#Somalia, Police have also secured the building according to Capt. Mohamed Hussein, a senior police officer. The attack is believed to have been carried out by Al-Shabab. African Union forces were recently deployed to the building. The militant group Al-Shabab has admitted responsibility for the attack. This was the latest attack by suspected Al Shabaab members who have been targeting government institutions  Security forces rushed to the scene and ambulances ferried wounded victims to hospitals. Unconfirmed reports say several people have been taken hostage. Report says the head of security at the ministry who is also a police officer, was among the dead.